My New Book
This children's book is all about seeing our value in God's eyes and knowing that He has a plan for us all! Great to curl up and read with a little one you love. Simple, cute watercolour images accompany text and Scripture.


If you purchased a copy of
'Letter to My Child- The Story of You',
know that a portion of all profits goes to support a pregnancy crisis center in Alberta (thank you!).

#lettertomychildbook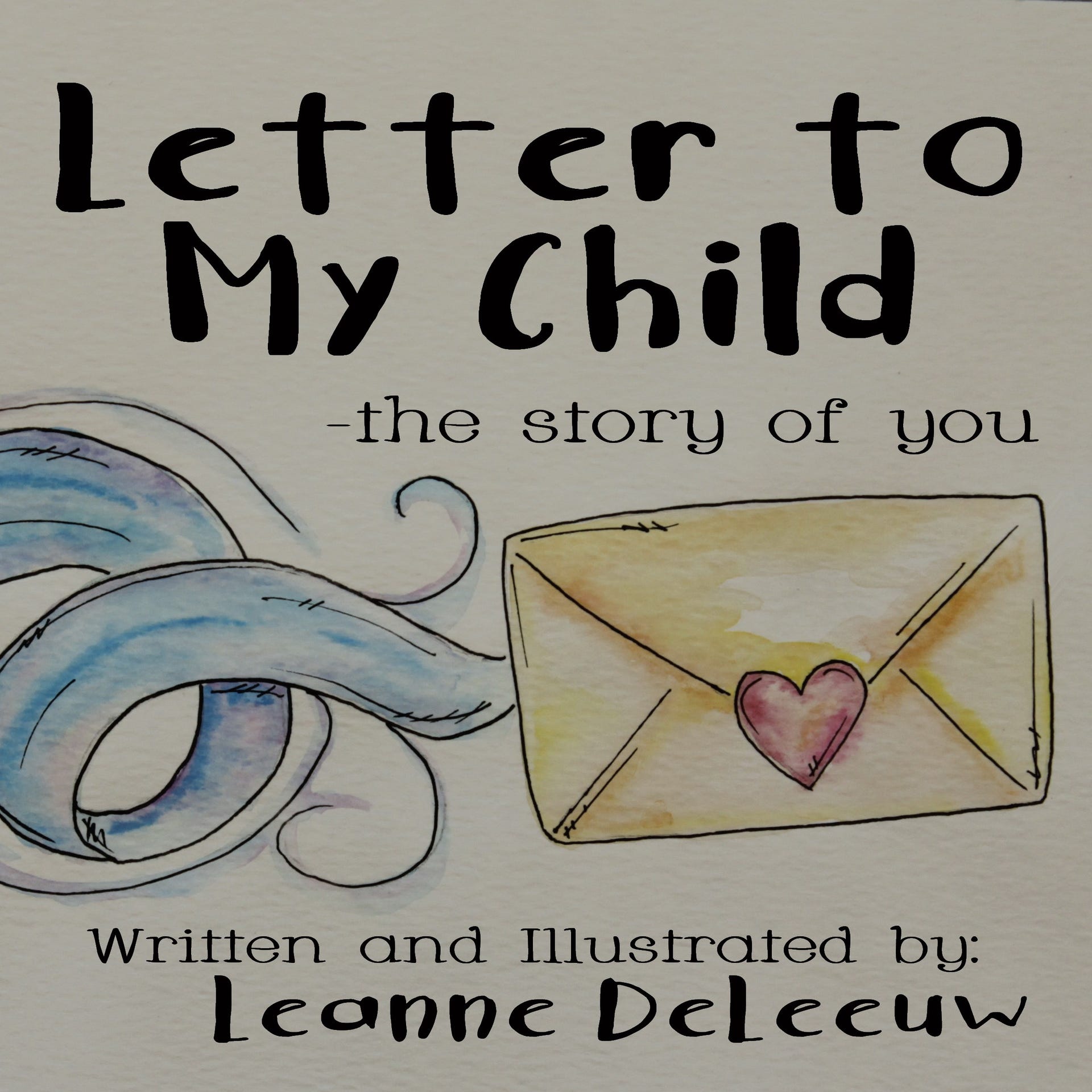 This was one of the cutest Children's book I have read. I really enjoyed the way the author helped children as they are growing up. The story line was amazing and the illustration are eye catching. This would be an amazing book for each Sunday School class to read to there students . I would highly recommend this book. The author did an outstanding job.
A Gardner- Goodreads
Letter To My child – The Story Of You by Leanne DeLeeuw is the most beautiful Christian book for the under 5's. It is simply written and beautifully illustrated telling the story of God's love and plans for each of His children. The book is perfect to read to little ones or for early readers to read themselves. The illustrations act as prompts if your child needs them.
This story can also be the starting point for discussions about God and how much He loves your child. With Bible verses sprinkled throughout, your child learns the heart of God.
Letter To My Child is a book that should grace every bookshelf. Buy a copy for your children or grandchildren. It is simply beautiful.
Julia- Goodreads
This is a book that I would recommend every parent to get for their child/children. It's a perfectly crafted short story on how before were even born, God knows our purpose. Also, that each and every single one of us holds a special place in God's heart and he views all his children the same. Very touching!
Mike- Amazon

I loved this book and illustrations!! My kids also loved reading it and there are many great bible passages in it as well that are awesome for kids! I have kids 5, 7, 9 and they all loved it! I would love to see this book in our church library.
C Voogd- Amazon
A Favour...
If you purchased a copy of 'Letter to My Child- The Story of You' PLEASE leave a review, and use #lettertomychildbook on your social media so I can see all the wonderful people who have purchased this book!!!
About Me
Hi! My name is Leanne, and I live with my family in rural Alberta, Canada. I am a stay at home mom and school teacher. This year I have been learning a lot about self-publishing as I have been working on my first book.
My First Book
I have always enjoyed writing, but May 2019, is when I began thinking about the concept for this children's book. The book was written shortly after and I spend the summer painting, photographing, and formatting. 'Letter to My Child-The Story of You' began to take shape, and on March 30, 2020 my paperback and ebook were published.
Youtube content can't be displayed with your current cookie settings. Select "Show Content", to view content and agree to the Youtube cookie settings. Get more info in the Youtube Privacy Policy. Opt-out here at any timecookie setting.
Show Content